It's September, you arrive in a new university town full of parties and freedom and you've got hundreds or thousands of pounds of student loan in your bank account. Are you tempted to go on a luxury shopping spree, followed by cocktails and a slap up meal? Why stop there? Splash out on an Xbox or a new phone and join the swankiest gym in town.
Fast forward to November… you're living off a diet of value pasta and tinned tomatoes, you're involuntarily teetotal, student nights are spent in your bedroom trawling through Netflix trying to find something you haven't watched yet. You're lonely, hungry and you can't afford a new winter coat so leaving the house is an arctic experience.
If only you'd gone for 2 for 1 cocktail student nights and bought two new dresses instead of sixteen full-on outfits.
I know it might seem boring, but planning your spending at university in advance can really help you avoid a financial black hole half way through the term.
We've put together a few tips for managing your money at university.
Eat cheap
Whether you're partial to kale or a kebab, your food shop doesn't need to be expensive. There are lots of budget supermarkets around where you can do a weekly shop for under £20. Find your nearest Lidl, Aldi or Asda and buy fresh food rather than prepared food to make your pennies go further. Searching for recipes on a budget online will give you plenty of ideas for tasty and cheap meals like curries and bolognaise – they're often on supermarket websites. Look out for deals and own brand cheaper versions of the same product.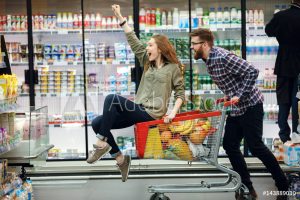 Try not to lose stuff
We know it's not always easy to keep all your belongings together, especially when you're sharing a house and studying in different locations and campuses. But each time you lose a thing, you have to replace that thing, which usually costs money. Whether it be a jumper, bag or something more valuable like your wallet or your over 18 ID, this is cash down the drain. If you have cheaper versions of the item in first place though, it's not so bad. For example using your passport for over 18 (and losing it) would cost you around £80 to replace. A PASS ID card like My ID Card is official over 18 ID and only costs £15 to replace if you lose it. That's a little easier to come to terms with (and to apply for) than a new and expensive passport.
Student nights
Student nights are always cheaper than your standard nightclub entry, and arguably more fun. They'll most likely include some deals on drinks too. You could cut down the cost of your night out from £50 to £20. Remember your over 18 ID so you don't get turned away.
Spreadsheet
You might have spreadsheets coming out of your ears depending on what you're studying for your degree, but planning your finances in Excel is the key to being richer! Try and work out what you'll spend each month on bills, food, going out and clothes and split it so you have enough to last you until your next chunk of money comes in. It'll make life less stressful and you won't go hungry after the first two weeks of being at uni.
Fashion
It can seem like a bit of catwalk at university, but you don't need to buy designer labels to look fabulous. Try and catch all the seasons sales for half price or less items, or find cheaper alternatives of the latest trends in shops like H&M and Primark. You can look amazing without spending a fortune! Use Pinterest and Instagram for fashion inspiration.Charity shops are always worth a look too. One mans's trash is a hipsters vintage treasure.
Exercise
Keeping fit doesn't have to cost money. Save yourself £30-£60 on gym membership by making up your own exercise regimes to do at home or the local park. Running, HIIT workouts and yoga are all things you can do to keep in shape without needing any equipment. Check out YouTube for free routines too. Some of the university sports clubs will be cheap or even free to join, so check those out when you're at the freshers fair.
And hey presto, you're still rolling in it by Christmas so you can afford a new party outfit or a festive night out! Maybe even a Christmas present or two.
https://www.myidcard.co.uk/wp-content/uploads/2017/09/over-18-id-managing-your-money.jpeg
3742
5613
My ID Card
/wp-content/uploads/2016/01/logo-card.png
My ID Card
2017-10-04 07:30:04
2021-03-25 09:20:01
Managing your money at university