For those of you who decided to go to university this autumn, you might be thinking about the art of making friends. Of course, the truth is there isn't really an art – just be yourself and you'll be great at making friends, right? But hang on a minute… when you throw in the excitement of a new town or city, possibly a new house, new studying responsibilities and new nightlife to explore, maybe making friends at uni could be more of an overwhelming idea than you first thought.
Here's a little guidance if need inspiration for bonding with your fellow students.
Going out
Many students make friends on a night out on one of the hundreds of freshers events that happen in the first couple of weeks at university. This is certainly not a bad place to start, so get to the freshers fair or student union to find out what's on. Don't forget to take your proof of age card wherever you go out, so that you don't get turned away in front of your potential new mates. My ID Card is an official proof of age card accepted by doormen, bar staff and supermarkets. It only costs £15 so it suits your uni budget and it's also less risky than carrying around your £80 passport.
Sports
At the freshers fair there will be opportunities to join a wide range of sports clubs such as netball, football, hockey, rugby and cheer leading. This is the perfect way to make friends whilst keeping fit at the same time. See what takes your fancy and go for it!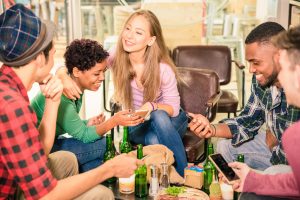 Social media
Check out there are any Facebook groups for your lecture group, you could always arrange a quick coffee or drinks meet up before your lectures start so you'll have some familiar faces at the first session. You never know, some of these people might become your best friends for life!
Housemates
If you're moving into a new house or halls of residence then hopefully you'll be able to bond with one or more of your new roomies. There's a chance that not everyone you meet will be your cup of tea, but that's just another bit of life experience you'll learn at university. The chances are you'll make a group of friends that might be from different areas of the uni – from you halls, your lectures or your sports club.
Old friends
Perhaps there's someone from your previous school or college who's going to the same university as you. Ok – so you might not have been best buds before, but it could be worth a meet up seeing as you're in a strange town. They might already have a group of acquaintances that you end up getting on well with.
Dinner parties
If you've been blessed with any cooking skills before you reach campus, then perhaps a dinner party could be a nice way to make new friends. Invite your housemates or your lecture buddies, or if you're in halls then maybe even invite a few from the floor above if you're feeling brave! Make something simple and ask everyone to bring a bottle, and it might be a night to remember (or not, depending on alcohol consumption). Remember that My ID Card is a proof of age card you can use in supermarkets when you're buying your dinner party booze.
We hope you have a great time!
https://www.myidcard.co.uk/wp-content/uploads/2017/09/MAKING-FIRENDS-AT-UNI-PROOF-OF-AGE-CARD.jpeg
3372
5460
My ID Card
/wp-content/uploads/2016/01/logo-card.png
My ID Card
2017-09-13 14:01:50
2021-03-25 09:20:38
Making friends at uni